Newsroom24x7 Network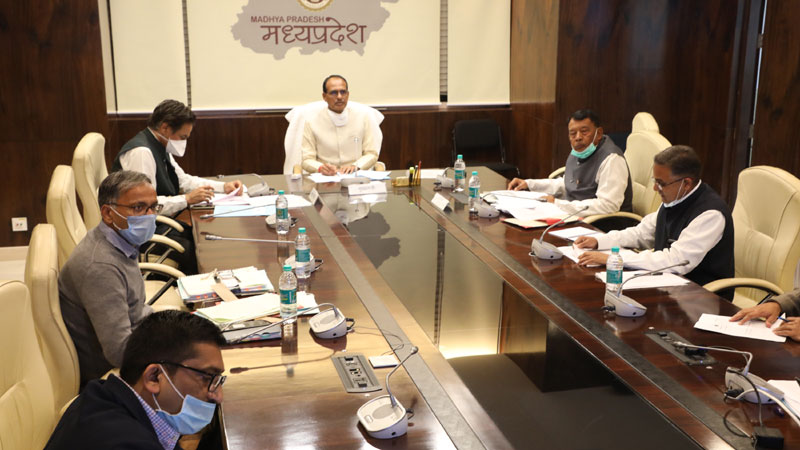 Bhopal: Madhya Pradesh Chief Minister Shivraj Singh Chouhan on Tuesday 19 January 2021 announced that record 37.26 lakh metric tonnes of paddy have been purchased this year at the minimum support price in the State. 
The farmers have been paid Rs. 5,000 crore and 90 percent of the paddy has already been transported, the Chief Minister informed. He also congratulated the State Food department, Markfed, Civil Supplies Corporation and all the related departments for record paddy procurement in the state.
The Chief Minister has issued instructions that the remaining payment of the farmers should be made on priority and transportation of the remaining stock of paddy should be done at the earliest. Also, the work of milling the purchased paddy should be done without wasting time.
The Chief Minister was reviewing the work of paddy procurement at minimum support price. Food, Civil Supplies and Consumer Protection Minister Bisahu Lal Singh, Chief Secretary Iqbal Singh Bains, Principal Secretary Faiz Ahmed Kidwai, Principal Secretary Manoj Govil, Managing Director Markfed P. Narhari were present at the meeting.
This year, the procurement of paddy in all the districts, except Vidisha, has been more than last year. The districts with maximum procurement include Hoshangabad, Raisen and Sehore, where compared to last year. 25.85 lakh metric tons of paddy was purchased in the state in the year 2019-20 and 21.96 lakh metric tons of paddy in the year 2018-19.
2.24 lakh metric tons of jowar and millet purchased
2.24 lakh metric tons of sorghum and millet have been purchased this year at the support price. A total of 6491 farmers have sold jowar and 35926 farmers have sold millet at support price. Their total amount due to these farmers is Rs 497 crore, against which Rs 496 crore has been paid to the farmers.
Milling during procurement
This time the government has implemented for the first time the policy of clubbing milling with paddy procurement. During the current procurement, 60597 metric tonnes of paddy was lifted by the millers. Maximum 37800 MT of paddy was lifted by the Millers in Jabalpur district. Instructions have been issued by the Government for milling the entire stock of paddy purchased before the rainy season.
Registration of farmers for Rabi will be done between 25 January and 20 February
This year, the registration for the procurement of Rabi at support price will be done from 25 January to 20 February. For this, a total of 4529 registration centers have been set up in the State. Last year there were 2991 registration centres in MP.
New system of registration of Sikmi / sharecroppers
Chief Minister Chouhan said that a new arrangement is being made for registration of Sikmi / Bataidars during the Rabi season this year and registration will be done for procurement at the support price for the contracted area up to 5 hectares.
Kharif 2020-21 earnings
Quantity in MT, Amount in Crores
Grain
Fever
Millet
Registered farmer
7,18,770
14,063
39,977
Seller cultivator (% registered cultivator)
5,86,683 (82%)
6,491 (46%)
35,926 (90%)
Total purchase volume
37,26,438
2,24,919
Total purchase amount
6,961
497
Farmers Payment Amount
5,356
496
Transport Quantity (% Purchased Quantity)
33,41,551 (90%)
2,24,878 (99.9%)
Accepted quantity (% transport quantity)
30,78,217 (92%)
2,24,669 (99.9%)
Year-wise comparative status of Kharif earnings
| | | | | | |
| --- | --- | --- | --- | --- | --- |
| No | The year | Registered farmer | Seller farmer | % Seller farmer from registered farmer | Earnings Volume (Lakh MT) |
| 1 | 2018-19 | 5,61,766 | 3,78,187 | 67.3 | 21.96 |
| 2 | 2019-20 | 5,43,142 | 4,29,147 | 79.0 | 25.85 |
| 3 | 2020-21 | 7,20,138 | 5,86,683 | 81.5 | 37.26 |