Newsroom24x7 Network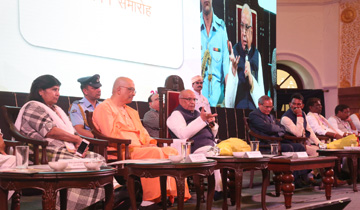 Bhopal: Madhya Pradesh Governor Lalji Tandon on Saturday 2 November 2019 said that the Right to Health is a revolutionary initiative. Efforts must be made with realistic vision for its successful implementation. He said that there is a need to identify the reality of society and move ahead with new thinking.
Tandon was addressing the concluding session of the Health Conclave at Minto Hall today. On this occasion, State Public Health and Family Welfare Minister Tulsiram Silavat presented a Sankalp Udghoshana Patra to the Governor.
Vice Chancellor of Makhanlal Chaturvedi National University of Journalism and Communication Deepak Tiwari said that there should be a system of imparting training in health related issues to journalists reporting on the health sector. In this field if any wrong information is broadcast or published, it should be immediately countered and brought to the notice of the public.
Film maker Vandana Kohli spoke about the importance of social media. She said that the film is a powerful medium. Through this, information related to health can effectively reach the general public.
Jamal Ayub of the Times of India insisted that the government-side should be there in public domain as soon as possible regarding any news.
Anil Gulati of UNICEF and journalist Vikas Dandekar also presented their views during the session. Freelance journalist Anant Janane said that polio-eradication and other health programmes have been very successful due to wide publicity through the media. He also talked about taking help of media personnel in health programmes.